Richmond Burlesque Goes to Hollywood
03.08.2012
Hollywood tried to do burlesque once before and the result was Cher, Christina Aguilera, and a whole lot of bad wigs and cheese. But burlesque fans can take heart with the movie industry's latest attempt, a James Gray directed ...
After-dark inquiry: RunAround Sue
02.07.2012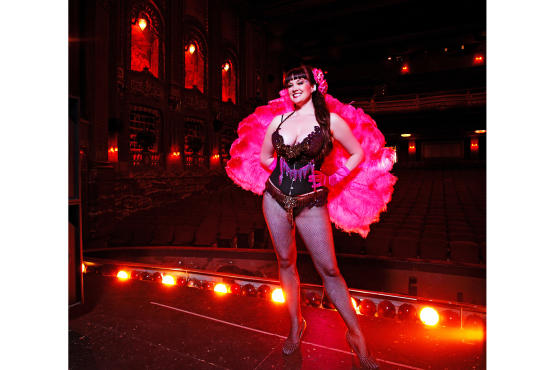 The sparkly Sugar Shack Burlesque veteran runs the weekly Shaken & Stirred shindig. Time Out NY interviews Miss Runaround Sue on her weekly burlesque dance party Shaken and Stirred and her upcoming role in a new James Gray film ...
Sugar Shack Burlesque's Hack This III
06.18.2012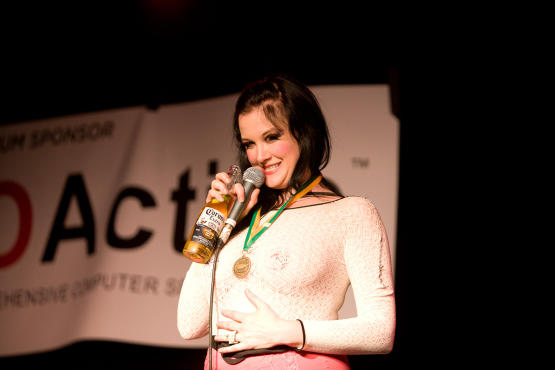 On Saturday, March 9, Sugar Shack Burlesque tossed Hack This III, the final event of the nation's oldest hacking convention, SummerCon, in Brooklyn's Littlefield. And what happens when you bring together a pack of computer-programming ...
Sugar and Spice and Everything Nice
12.20.2010
Sugar Shack Burlesque delivered another delicious dose of naughty and nice on Saturday night at their favorite Carroll Gardens sweet spot. The Jalopy is a hidden Brooklyn gem situated literally on the edge of Brooklyn atop the Battery Tunnel Toll Booths, where classic stringed ...
NYC's real-life Burlesque
11.29.2010
"Burlesque" is on the big screen with Cher's new film, but in real-life, the scene has been raging in NYC for years. Meet the dancers.
RUNARAOUND SUE is the producer of Shaken and Stirred at the Delancey, started doing burlesque in 2005. "It's one of those things where I just went to go see shows and I felt like I belonged ...
On "Shaken & Stirred" at the Delancey
August 4, 2010
Half the lottery of going to a burlesque show is the crowd. What can you say when it's d-baggy? The Slip thrived on random Saturday night UWS tourists and bridge-and-tunnel bachelorette parties—proof that everyone loves burlesque, even all of those who—cough—love it for the wrong reasons. That's not what I'm talking about. I'm talking about people who came for the free shots and literally tune out the free ti-tays. Yes, it happens. And you just want to smack 'em. And it's a friggin' shame, because Runaround Sue is running a fantastic little show on the LES that is neither stage nor floor—it's banquette. ...
Burlesque Blossoms at Two Hamptons Events
Issue #20 - August 6, 2010
When RunAround Sue first started her burlesque troupe, Sugar Shack Burlesque, in New York City in 2006, she had no idea it would become what it is today.

After that first year, she produced several bimonthly shows at Montauk's Sole East. The shows became so wildly ...
The Queen of Neo-Burlesque
August 17, 2010
Sue Gardner looks a lot like Walt Disney's Snow White. Her face has the same chiseled heart shape, and her brown eyes have the sort of sweetness that could care for seven dwarfs, or catalyze a burlesque revival.

"This is the age of burlesque," she told the Transom over coffee and an avocado salad in the shallow patio of the Cafe Mogador on St. Mark's Place. "I think 20 or 30 years from now, people are going to look back and...
Sugar Shack Burlesque presents 'Kiss This!'
Friday, July 16, 2010
It's the London debut for this renowned New York troupe, with a sizeable reputation on the city's pioneering neo-burlesque scene for mixing old-school charms with new confrontational twists...
What happens when the Big Apple visits the Old Smoke?
July 16, 2010
As I stepped over a broken mirror on my way back home, I thought about the person who dropped it having bad luck for 7 years.... and considered my own luck this evening.....not only had I been fortunate enough to avoid being abducted in the underground by the Freemason promoting an invitation only rave in the woods, near the fifth corner of the New Jerusalem, I was able to catch the second to the last train north bound and, some how, before leaving the Lockside Lounge, I ended up in the changing room / kitchen with the beautiful and ...
Gals from the Canal
Summer 2010 Issue
Some of the most wild and wonderful burlesque performers and producers are neighborhood girls. When they aren't gigging at the Bell House, you might find them sitting next to you on the R train headed to PINK. OVERFLOW is proud to introduce you to four of your most cleaver and gloamerous neighbors. ...
Burlesque In Montauk
Issue #18 - July 24, 2009
Last summer, when Sugar Shack Burlesque decided to bring its New York City-based show out to Sole East in Montauk, producer and performer Runaround Sue wasn't quite sure what to expect. After all, those who don't understand what burlesque ...
Southern Migration
Posted On: 1/6/2009
Outlaws of dance and music, outlaws of traditional good taste, outlaws, nearly, from the 19th century: Burlesque lives again, out there on the fringes. It doesn't live anywhere as well as it does in New York, where venues such as Pinchbottom Burlesque, Wassabassco Burlesque and even ...
Interview With RunAround Sue
Posted On: 2009
Normally you're supposed to keep away from RunAround Sue, but in this case I'll make an exception!
Burlesque in Bermuda!
Posted On: 3/13/2009 11:29:00 AM
Bermuda is going to be tickled pink by what is thought to be the island's first ever burlesque performance. BIFF is opening its annual festival with a rather risqué troupe of dancers called Sugar Shack Burlesque ....
Belle of Burlesque
Posted On: 2007
Did you ever know a person who could radiate a room with their smile or make the gloomiest day filled with laughter and good stories? I do...her name is RunAround Sue and she is...
Sugar Shack Shakes Up Montauk
Posted On: Issue #15 - July 4, 2008
Is the East End ready for burlesque? Runaround Sue, producer of Sugar Shack Burlesque based in New York City, seems to think so. If not, she hopes to shake things up, as she prepares for her group's first show at Solé East in Montauk. Along with two other girls - Legs Malone and Rubie Fizz - she'll be performing...
She's Got Legs
Posted On: Thursday, April 10, 2008
Slowly the young woman lowers the giant fan spanning her body—just enough that her shy eyes peek out. She blinks coquettishly at her audience before raising the fan again, high enough to show off her garter adorned with tassels...